Archive for Michigan Destinations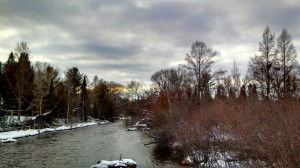 Better late than never, seems to be a slogan of mine throughout the years and now, at 37, some things never change. It has been a good 3 months since we moved back to Michigan and into the house I have owned since the turn of this century. Now that things are starting to settle down, our desire to be on the move is strong. Oh, its not that I don't adore this state, but have you ever tried to move back to an old situation while in a new situation all the while losing about an hour of daylight a day and the sun in addition to about 50 degrees? It ain't easy, pardon my slang.
Moving back to northern Michigan in the middle of December after living in desert environment in the Southwest for 2 years is a challenge to say the least. Now that our sunlamp has started to do its job in addition to an added dose of Vitamins from a bottle daily and winter, it appears, is loosening her grip, my anticipation for summer, and all the things we craved while living in El Paso is returning. I find myself begging to get out just to "see" what I can see. Drives with frequent stops so I can jump out of the Jeep to get a picture just because the clouds look so perfect are an almost nightly occurrence. Again, my art seems to be inspired by nature and all her glory.
Now, armed with gloves, extra warm boots, a super warm jacket and a High Definition camera, we are out exploring the beauty of our beautiufl state and trying to forget how much we are missing our friends in El Paso and the stunning mountain and desert views. I will NOT miss 118 days straight of no rain, though I will miss daily sunshine. I will NOT miss day after day of temperatures in the hundreds, though I will miss days of 90 degrees with no humidity. I will NOT  miss frequent and unexpected sandstorms, but I will miss seeing the storms come over the mountain from 10 miles away. I will and do miss so much about Texas and even more so, New Mexico, but every day I see something new here in Michigan, I remember what I missed about our own Great Lakes State!
Plans are being made for weekend getaways to the UP to see the waterfalls and after work trips to any of the dozens of lakes just down the road. Plans to catch 12 inch blue gills on my fly rod with just a yellow popper on quiet lakes with no sounds but the cicadas, the fish jumping on the surface, the whippoorwils in the nearby woods, and the call of the loon from some distant place. Summer is coming, spring is here and everyday is one day closer to natures splendor in an amazing state.
This is pure Michigan. This is what we missed. This is why no matter where we are, we are still Michigan girls.
This weekend I spent some time in Alpena, Michigan. Not far away, but like many other people, I just don't spend much time in places not far off.  I don't know if I just assume there is nothing there, or if I just don't take the time to seek them out, but whatever the reason, it's going to change. As an one time natural history interpreter, I love and adore all that is outdoors. Places like the Jordan River Valley, Largo Springs, and the Ausable River are just a few of the many amazing natural features Michigan has to offer, but for now, I digress on those topics as my focus today is on Alpena.
Though I didn't get a chance to go exploring due to time constraints and poor weather, I did look up the natural features and activities popular in Alpena and thanks to a little help from my friends, am now officially sucked in to this beautiful little town.  As a destination junkie, I love finding the best places to enjoy specific activities and diving and shipwrecks are incredibly mysterious and attractive to me. All this time I have spent learning about the Caribbean and Pacific and the shipwrecks there, when right here in Michigan, we have a wonderful place to explore our own mysterious and amazing shipwrecks.
Located on Thunder Bay, Lake Huron, Alpena is home to the Thunder Bay National Marine Sanctuary and the Great Lakes Maritime Heritage Center.The Marine Sanctuary is the location of almost 200 shipwrecks which due to the cold water, are remarkably preserved. Ranging in depths from a few inches to 200 feet, divers and snorkelers from around the world come to explore this amazing site. A visit to the Maritime Heritage Center also holds a number of wonderful exhibits and a discovery center which allow visitors the opportunity to explore the history of many of the stories behind the wrecks in and around the area.
This is not the end of my journey to explore Alpena and it's amazing history, but just the beginning. When next I talk about Alpena, I will be able to share my own experiences of this great Michigan town. What I did learn on my first trip to Alpena is that it is beautiful, has wonderful people, and a great heritage worth exploring. The houses are beautiful, the John A Lau Saloon is very nice and has an amazing history, and I will be returning.  Lesson learned. Never discount the amazing sites and towns in your own state, get out and explore the sites and destinations near to you and learn why people travel to your state.
If you are interested in learning about Alpena, I am attaching a link to their website. (click here to visit Alpena's website.)
This is a video I found of a dive in the Marine Sanctuary in Alpena.