Archive for March, 2013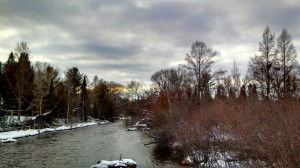 Better late than never, seems to be a slogan of mine throughout the years and now, at 37, some things never change. It has been a good 3 months since we moved back to Michigan and into the house I have owned since the turn of this century. Now that things are starting to settle down, our desire to be on the move is strong. Oh, its not that I don't adore this state, but have you ever tried to move back to an old situation while in a new situation all the while losing about an hour of daylight a day and the sun in addition to about 50 degrees? It ain't easy, pardon my slang.
Moving back to northern Michigan in the middle of December after living in desert environment in the Southwest for 2 years is a challenge to say the least. Now that our sunlamp has started to do its job in addition to an added dose of Vitamins from a bottle daily and winter, it appears, is loosening her grip, my anticipation for summer, and all the things we craved while living in El Paso is returning. I find myself begging to get out just to "see" what I can see. Drives with frequent stops so I can jump out of the Jeep to get a picture just because the clouds look so perfect are an almost nightly occurrence. Again, my art seems to be inspired by nature and all her glory.
Now, armed with gloves, extra warm boots, a super warm jacket and a High Definition camera, we are out exploring the beauty of our beautiufl state and trying to forget how much we are missing our friends in El Paso and the stunning mountain and desert views. I will NOT miss 118 days straight of no rain, though I will miss daily sunshine. I will NOT miss day after day of temperatures in the hundreds, though I will miss days of 90 degrees with no humidity. I will NOT  miss frequent and unexpected sandstorms, but I will miss seeing the storms come over the mountain from 10 miles away. I will and do miss so much about Texas and even more so, New Mexico, but every day I see something new here in Michigan, I remember what I missed about our own Great Lakes State!
Plans are being made for weekend getaways to the UP to see the waterfalls and after work trips to any of the dozens of lakes just down the road. Plans to catch 12 inch blue gills on my fly rod with just a yellow popper on quiet lakes with no sounds but the cicadas, the fish jumping on the surface, the whippoorwils in the nearby woods, and the call of the loon from some distant place. Summer is coming, spring is here and everyday is one day closer to natures splendor in an amazing state.
This is pure Michigan. This is what we missed. This is why no matter where we are, we are still Michigan girls.